CBA LIVE 2024
Gaylord National Resort | National Harbor, MD



Gaylord National Resort & Convention Center
201 Waterfront St
National Harbor, MD 20745
Standard Room (One King Bed or Two Queen Beds)
CBA Nightly Rate: $303.00++
Daily Resort Fee: $22.00++
++Rates are subject to nightly resort fee, applicable state and local taxes, which are currently at 18%. (This is subject to change without notice.)
These classically-designed guest rooms at this luxury Washington, DC hotel offers residential comfort featuring a well-lit desk and high-speed Internet access. The beautifully appointed bathrooms come complete with granite countertops, dual sinks, marble floors and shower tub combinations. Accommodations also include soothing bath products.
Triple and Quad Occupancy: If there are more than 2 people on your reservation, a charge of $20 per night will be added for each additional guest (children 12 and under are free).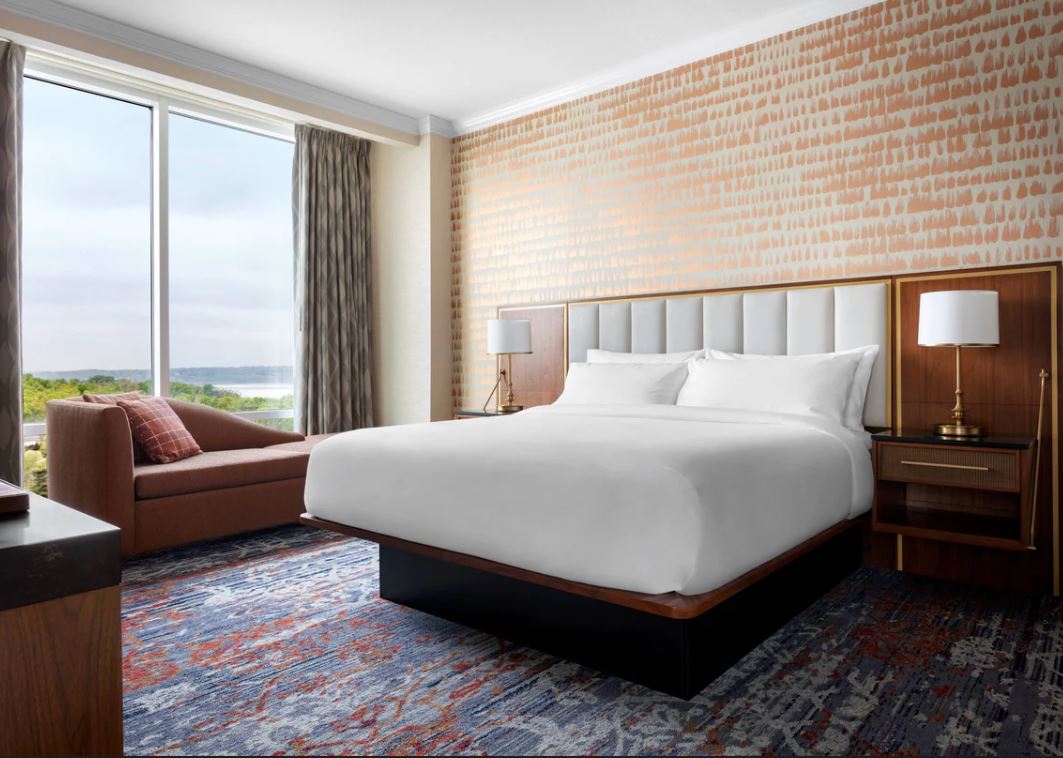 CBA LIVE RESERVATION POLICIES
Please make sure that you provide your REGISTRATION INVOICE NUMBER (EXAMPLE: REG-0012345). This number is required for each reservation that is made. Failure to provide the correct number will result in a delay of the hotel confirmation process and/or you not receiving a hotel reservation.
All reservations will require an advance deposit equal to one night rate plus taxes. The hotel will charge the deposit to the credit card provided on the reservation within 7-10 days of the day it was requested. If you would like to change the card on file, please contact our office at 954-404-8252. Hotels will not automatically send out a folio/receipt. If you would like a copy of the deposit folio, please email your request to [email protected].
Reservations can be fully cancelled without penalty on or before February 23, 2024. After February 23, 2024, the advance deposit equal to one nights room rate, will be forfeited. Once cancelled you will receive a cancellation confirmation email.
All changes must be emailed to [email protected] 72 hours prior to your confirmed arrival date.
Experience more at the best Maryland
Harbor hotel near D.C.
Discover more of what you love this summer at Gaylord National Resort & Convention Center.. More adventure, more fun, more time together, more memories. Soak in the warmth at the resort pool and splash deck or take in waterfront views from our garden atrium or rooftop lounge.
Airport and Resort Location
The resort does not offer an airport shuttle service to nearby airports. Guests may arrange for taxi or car ride app services. Once on-property, Private Car Services and Limousine/Van services are available.
The closest airport to the Gaylord National is Ronald Reagan Washington National Airport (DCA). Estimated 20 minutes away, depending on traffic.
Renting a car (Cost varies by car rental company)
Taxi (Cost estimated at $40* USD/One Way)
UberX (Cost estimated at $25-45* USD/One Way)
Lyft (Cost estimated at $22-30* USD/One Way)
*All prices listed above are ESTIMATES. Estimated pricing is subject to change at any time and does not include driver gratuity or Meet-and-Greet fees.
HOTEL QUESTIONS?
Contact Staged Right Events
Email: [email protected]
Phone: 954-404-8252
Monday-Friday
9:00 AM – 5:00 PM EST